So, Reese has been on a big sticker frenzy lately. She loves them, and they keep her occupied for quite some time, which is fantiastic.
So, at Target this morning, I saw they had a bunch of stickers on sale for 42 cents. (Seriously, 42 cents? why 42?)
Anyways, I grabbed some fish, some Tinkerbells, and some cute bunnies.
Only later when we were at home and Reese was sticking Bunny stickers all over Niles did we realize what those cute bunnies were communicating to our sweet girl.
Here's a small sample for you: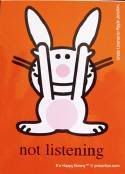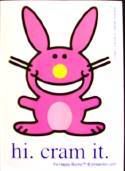 "Hi. Cram It." ???? Who the heck writes these things?!
So Niles kept me fully entertained reading off each sticker as Reese stuck them onto his arm. Here's a few of my favorites:
"look how nice I am not laughing at you"
(picture bunny holding a guitar) "I know it's loud. I just don't care" ?!?!?!?!
And my personal favorite:
"I have a dream, and in it something eats you."
And to think, someone is actually making money off of these.
Ahh, the American dream. =)